Cooking in your caravan can be a faff sometimes and bending down to use a gas or even electric oven isn't always the easiest in a confined space.
Air fryers have existed for a while now but they suddenly gained attention thanks to the Covid-19 Pandemic where they found their way into many of our homes.
For the same reasons they are great to have in the home, they are great to have in your caravan too. The Innoteck Kitchen Pro 8L Dual Basket Air Fryer only draws 7.5 amps so would be perfect to make healthy meals in the caravan.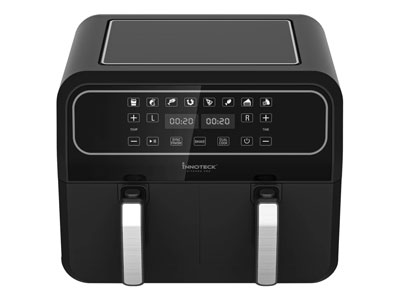 There are two 4L baskets which allow you to cook two different meals at the same time or a combination of mean in one basket and potatoes in the other. With the air fryer, you will use 99% less oil than in a conventional oven. That means less calories and less saturated fats.
Healthy eating would be one benefit worth buying an air fryer for but you will also save time and power too. That means healthier, cheaper and time saving means.
The Innoteck Kitchen Pro 8L Dual Basket has 8 cooking modes: Air fry, roast, broil, bake, reheat, keep warm, french fries & dehydrate. That means you can cook anything from chicken to Victoria Sponge and everything in between.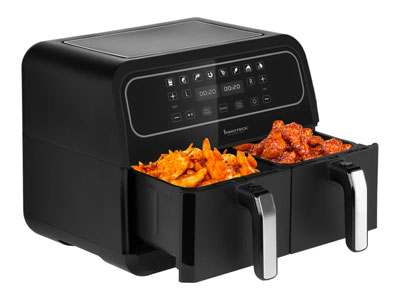 You may be thinking, 'That sounds good but it'll be annoying to clean.' Well thankfully you'd be wrong. All you have to do is wait for the air fryer to cool, take out the baskets and wash them in the sink. Wait for them to dry, pop them back in again and you're ready to cook a delicious healthy and cheap meal again.
You may be worried about introducing another electrical device to your caravan but the Innoteck Kitchen Pro 8L Dual Basket has overheating protection and has an auto shutoff timer of 1 hour if it is not in use.
Get your Innoteck Kitchen Pro 8L Dual Basket Air Fryer now.