As per a report from the Society of Motor Manufacturers and Traders (SMMT) on the 10th of May 2022, sales of second-hand electric cars have more than doubled throughout the opening quarter of the fiscal year.
During the first three months of the year, data from the SMMT show a 5.1% uptick in used car sales, presumably because of worldwide semi-conductor shortages arising due to the global pandemic.
Sales of used battery electric vehicles (BEVs) rose from 6,625 to 14,586, an increase of almost 120.2% compared to data gathered from the first three months of 2021.
As consumers and organisations become more aware of their carbon footprints, sales of electric vehicles will only continue to rise. Affirmed by the fact that during March of this year, the two highest-selling cars in the UK were the all-electric Tesla Model Y and Model 3. With 6,464 sales for the Model Y and 6,457 for the Model 3, this toppled the ever-present, petrol-powered Vauxhall Corsa, with 5,515 sales.

The Chief Executive of the SMMT, Mike Hawes, states: "zero-emission vehicles ... filter through in larger numbers to consumers looking forward to driving the latest and greenest vehicles,"
"Electric car sales are energising the market.", expressed Hawes.
With the UK government looking to reduce the nation's reliance on fossil fuels by phasing out all new sales of diesel-engined cars by 2030, there has never been a better time to start sourcing more environmentally conscious alternatives.
With this data in mind, here's a list of the top-selling electric cars within the UK throughout 2021...
10) MG ZS EV
With 5,380 sales throughout 2021, MG's ZS EV comes in at number ten on this list.
The ZS EV utilises a 72.6kWh lithium-ion battery, providing a claimed electric driving range of 273 miles, charging up to 80% in an hour and three minutes - when using a 50kW rapid charger - solidifying how this all-electric family SUV is perfect for long-range driving.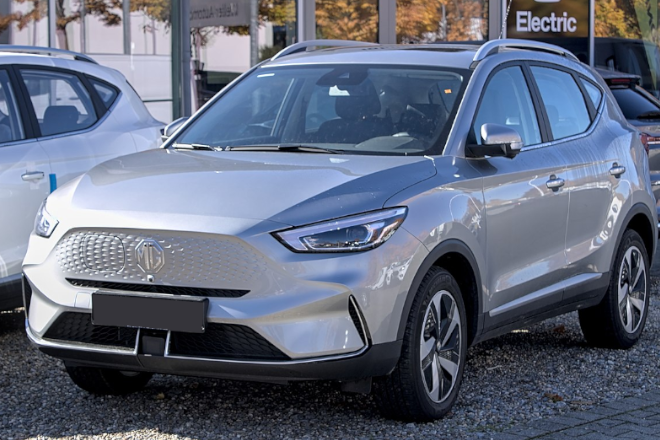 9) Vauxhall Corsa-e
Whilst its petrol counterpart may have topped the list as Britain's best-selling car during 2021, the Vauxhall Corsa-e comes in at number nine with a reported 5,605 registrations.
The Corsa-e comes with an electric range of 222 miles on a single charge, goes from 0 to 60mph in 7.6 seconds, and gains 80% of its charging capacity in 30 minutes (when using a 100kW charging station.)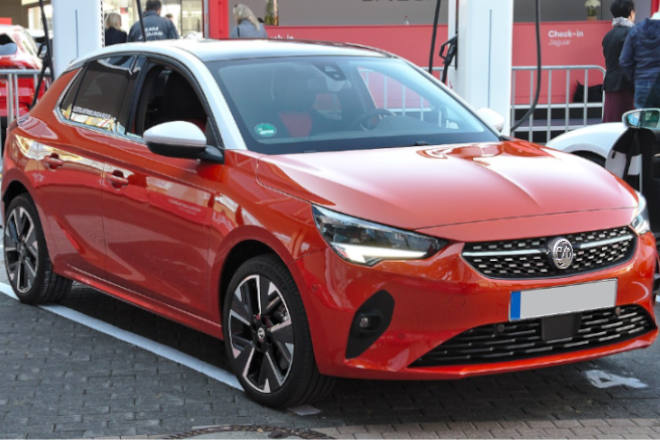 8) Renault ZOE
Previously Europe's best-selling BEV, the Renault ZOE is an admirable and affordable supermini that notched 5,778 registrations throughout 2021.
The ZOE utilises a 52kWh battery that offers an electric range of 238 miles and - when using a 50kWh rapid charger - can provide up to 90 miles of driving range in 30 minutes.
As a bonus, the Renault ZOE is compatible with Brodit's two-part mounting solution, allowing you to place a device on your dashboard safely and securely, as seen in the image below. Ensure you use the Brodit Smart Search to find the Brodit ProClip Mount and Holder perfect for your vehicle.

7) Mini Electric
Totalling 6,615 sales throughout 2021, the Mini Electric is the first all-electric vehicle in a new range coming from this prestigious and beloved brand.
With all that you have come to know and love from this well-known nippy hatchback, the Mini Electric comes with a range of new varied features. It can travel from 0 to 62 mph in 7.3 seconds, and its battery can go from zero to 80% in just 36 minutes. However, this three-door has a comparably limited range, only travelling up to 145 miles on a solitary charge.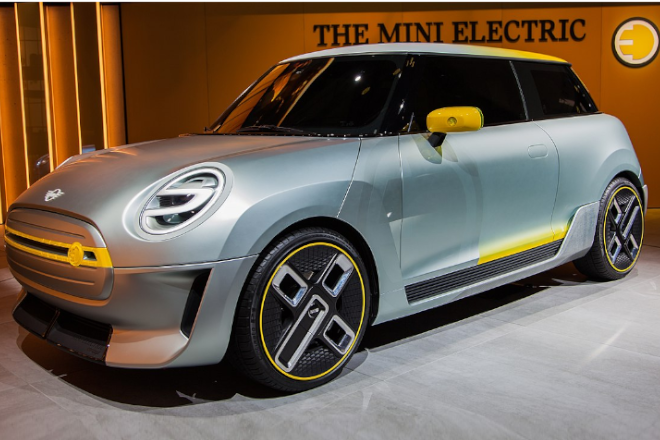 6) Hyundai Kona Electric
Hyundai's Kona Electric is a sophisticated crossover BEV made for long-range driving; with one full charge of its 64kWh battery, the Kona Electric can travel up to 300 miles.
Using a rapid charger, the Kona Electric can go from 10% to 80% in 47 minutes, and additionally, it can go from 0 to 60mph in 7.9 seconds. The Kona Electric comes with numerous high-tech features - such as remote climate settings and wireless charging - whilst also being compatible with Brodit device holders and mounts. Totalling 7,199 sales throughout 2021, the Kona Electric slots in at number six.

5) Audi e-tron
The Audi e-tron is the brand's first foray into the all-electric SUV market, managing 7,396 registrations in 2021.
With a £62,000 starting price, it can be considered a premium alternative to similar BEVs within this list. Available with various performance options, the e-tron's battery allows for an electric range of up to 252 miles on one charge. Whilst charging points on either side of the vehicle and rapid charging time increase the e-tron's practicality.
Brodit's two-part mounting solution attaches to the e-tron's sleek interior - without damaging it - safely securing your device throughout your daily commute.

4) Nissan Leaf
A pioneer amongst other BEVs, the Nissan Leaf, was first introduced in December 2010 and, over a decade later, still competes for a podium position, charting 9,052 sales in 2021 and coming in at number four on this list.
Its modest price range, spacious interior, and 239-mile electric range solidify its status as the all-electric family car. Whilst its Brodit compatibility ensures your devices stay secure during your travels.

3) Volkswagen ID.3
Coming out towards the end of 2020, the Volkswagen ID.3 comes with more features than you would expect from a family hatchback, leading to its bumper first full year, generating 11,032 sales in the UK throughout 2021.
The ID.3 comes with battery options ranging from 45 to 77kWh, each of which can charge from 5% to 80% in 35 minutes - providing motorists use a 100kW rapid charger. These battery options vary the ID.3's electric range, with the maximum capacity offering its motorists a staggering driving range of 340 miles on one charge.
The Volkswagen ID.3 remains compatible with Brodit's mounting solution, allowing you to safely secure your phone within a holder that stays mounted to your dashboard for the remainder of your travels.

2) Kia e-Niro
Kia's e-Niro misses out on the top spot, coming in at second with 12,271 sales throughout the UK in 2021.
Launched by Kia at the International Electric Vehicle Expo in Korea in 2018, it comes with 39.2 and 64kWh liquid-cooled lithium-ion battery options. Unlike other BEVs, it has a comparably spacious interior, and this eco-efficient long-range BEV can travel from 0 to 60mph in 7.2 seconds and has a high-end electric range of 282 miles once fully charged.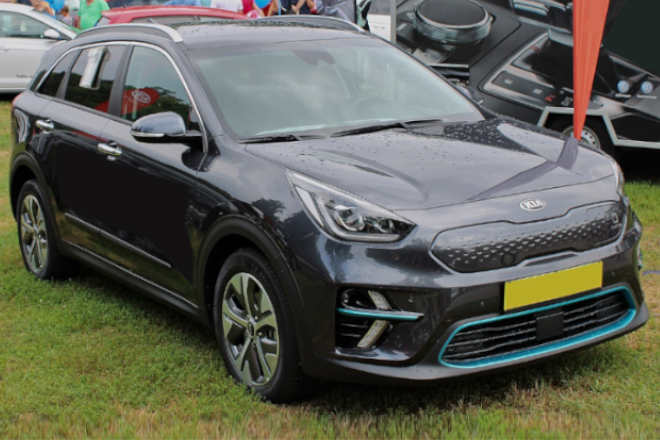 1) Tesla Model 3
With an astonishing 34,783 registrations throughout 2021 - 22,512 ahead of second-place - the Tesla Model 3 comes cruising to the top of this list. Additionally, coming in second place as the UK's highest-selling car throughout 2021 - only losing out to the Vauxhall Corsa.
The Model 3 is one of the most affordable saloons under the Tesla umbrella, offering numerous performance packages and upgrades dependent on your driving style: "Long Range" models deliver an electric range of 360 miles between charges, going from 0 to 60mph in 4.2 seconds; "Performance" models offer 352 miles but go from 0 to 60mph in 3.1 seconds; and the "Standard Range" presents 238 miles on one charge, going from 0 to 60mph in 5.3 seconds.
The Tesla Model 3 is compatible with Brodit's two-part mounting solution. Allowing its users to attach their handheld devices to the dashboard of their Model 3, meaning they can turn their attention to the road. To search for the Brodit ProClip Mount and Holder that fits your vehicle, check through the Brodit Smart Search function on Drive Safe and Legal.